Cypher locks can keep even remote areas safe from intrusions.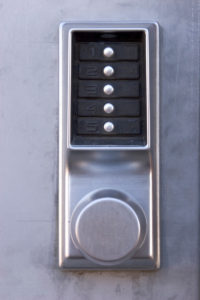 When it comes to the safety and security of your commercial property, a standard deadbolt and key aren't always going to be your best option. Keys can be misplaced or copied and distributed. Deadbolts can be picked with a little bit of experience and some patience. If you want reassurance that your place of business is safe at all hours, our team at Eastway Lock & Key, Inc. has some more advanced options that will ensure safe access only by authorized users. Just one of these options is a versatile one that we enjoy known as the Cypher lock.
You are probably already familiar with a Cypher lock, even if you haven't heard of the name specifically. A Cypher lock works with a mechanical button code system. Only when the buttons have been pushed in a certain sequence will a Cypher lock unlock. Without the code, access is denied and gaining entrance is near impossible for the average person. Cypher locks work similarly to electronic access control keypads in that a key code must be entered. However, with Cypher locks, you don't have to have access to electricity for the code to work, making Cypher locks great for more remote areas in need of security. With Cypher locks and additional access control measures, you can feel confident that your commercial or business property is safe and secure.
At Eastway Lock & Key, Inc., we want to make sure that all your Charlotte, North Carolina properties are managed safely with a combination of access control measures like Cypher locks. If you have questions or would like to learn more about our variety of locking mechanisms, please come and see our showroom today!
---
At Eastway Lock & Key, Inc., we offer cypher lock services in Charlotte, Concord, Indian Trail, Huntersville, Mount Holly, Marvin, Rock Hill, and Waxhaw, North Carolina, as well as Myrtle Beach, Fort Mill, Surfside Beach, Garden City, Little River, Conway, Murrell's Inlet, and Pawleys Island, South Carolina.