A keypad lock is convenient, secure, and versatile. These electronic locks allow users to unlock doors by entering a personalized code, eliminating the need for a physical key. Here are four ways they can simplify your life.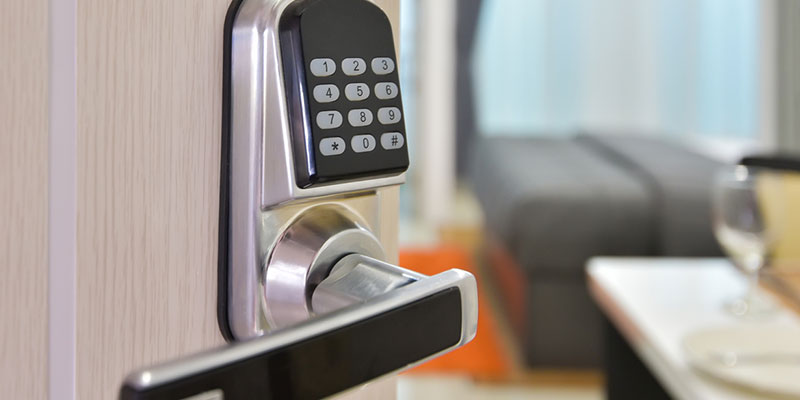 Never Lose Your Key Again. With a keypad lock, there is no key to lose. Moreover, they often come with additional security features such as auto locking and temporary guest codes, making your home even safer.
Secure Sensitive Areas in the Workplace. Keypad locks can secure sensitive areas within a commercial or industrial facility, ensuring that only authorized personnel have access. This feature particularly benefits rooms containing valuable equipment, confidential documents, or hazardous materials. Restricting access to these areas can significantly reduce the risk of theft, tampering, or unauthorized entry.
Enhance Security for Airbnb or Vacation Rentals. If you rent a property on platforms like Airbnb, a keypad lock can simplify your guests' check-in and check-out process while enhancing security. Instead of handing over physical keys, you can provide guests with a temporary access code, which can be easily changed between bookings. This approach eliminates the risk of lost or duplicated keys and allows you to monitor who has access to your property.
Access Control for Commercial Spaces. Keypad locks can be valuable for commercial purposes. By assigning unique access codes to each worker, you can effectively manage access to shared areas and private rooms, ensuring that only authorized individuals can enter. Additionally, you can track entry logs to monitor usage and make necessary adjustments to enhance security.
At Eastway Lock & Key, Inc., our team of experienced locksmiths can guide you in selecting the right keypad lock for you and ensure proper installation. Contact us for all your door and lock needs.