Turn to us for commercial door repair solutions for any type of door.
Could you imagine the floorplan of a business without doors? If you ponder that a moment, you'll recognize that doors provide a valuable service not only for entering and exiting your business, but for privacy inside the building, too. Here at Eastway Lock & Key, Inc, we provide the many services you need for your business doors. Our door repair services can resolve any issue you are having with your garage door, security door, hollow metal door, fire door, wooden door, or hurricane-related door.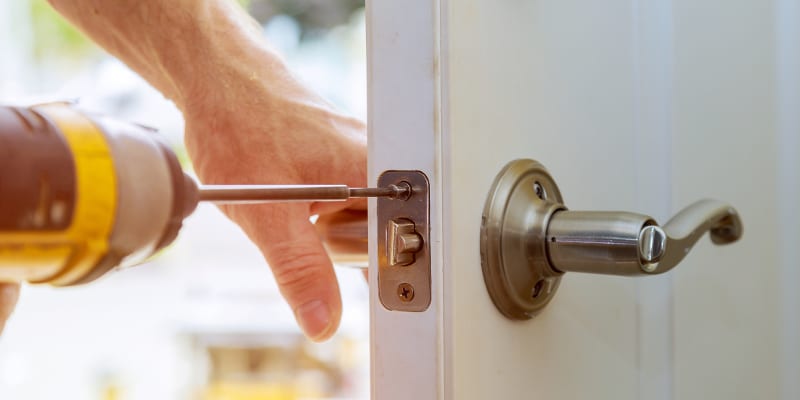 Our door repair services relate to the door itself and the hardware that enables them to function as they should. If you are having an issue with a door shutting securely, moving smoothly, or being able to be locked, you'll find our door repair team to resolve the problem in an effective and efficient manner.
We are a full-service door professional providing installation, replacement, and door repair for businesses in the Charlotte, North Carolina area. With our assistance, your doors can be both aesthetically pleasing and provide the security and privacy you desire and deserve. Over the past 40+ years, we have provided solutions for security with in-house full-service locksmiths and 24/7 lock-out services.
Feel free to call us with any questions you may have about door repair or any of our services, or stop by our showroom to view our full line of lock hardware, safes, access control and video surveillance equipment. We look forward to serving your security needs.
---
At Eastway Lock & Key, Inc., we offer door repair services in Charlotte, Concord, Indian Trail, Huntersville, Mount Holly, Marvin, Rock Hill, and Waxhaw, North Carolina, as well as Myrtle Beach, Fort Mill, Surfside Beach, Garden City, Little River, Conway, Murrell's Inlet, and Pawleys Island, South Carolina.