Check out our open positions to take your first steps toward a rewarding career with our team.
Our team at Eastway Lock & Key Inc. is looking for talented, motivated workers to join our team! If you are interested in a rewarding career that offers great benefits and competitive compensation, we encourage you to reach out to our team in order to learn more about the role you are considering, as well as how to apply. Below, you can find a list of our open positions, as well as an overview of each position's core responsibilities and requirements. Simply read through the description, and if any of the openings seem like a good fit, we encourage you to submit an application.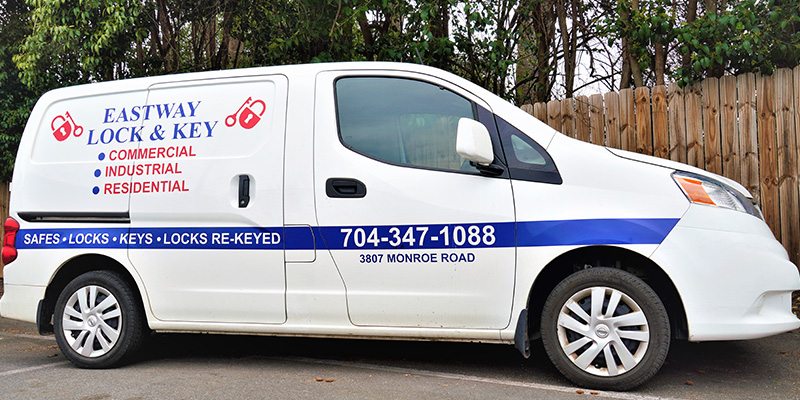 Commercial Door Installer
Eastway Lock & Key is looking to add a Commercial Door Installer to the team.
Position Summary: Serve customers by installing and servicing commercial door openings and applications. Provide superior customer service and present a positive, professional image to employees, customers, and clients in all interactions.
Principal Duties and Responsibilities:
Complete scheduled service requests within scheduled timeframe
Install and service commercial steel frames, steel/wood doors, and architectural hardware
Perform onsite modification work on steel/wood doors and frames if needed
Complete installation/service with as little disruption or impact to surroundings as possible
Carry out all work performed in the safest possible manner, following all company safety and onsite safety guidelines and requirements
Manage assigned schedule and document service and installation activities
Repair, troubleshoot, and retrofit existing openings and products
Maintain a clean and organized company vehicle and other company property
Knowledge, Skills, and Abilities Required:
Knowledge of doors and how they operate / basic carpentry experience is a plus but not required
Strong mechanical aptitude and troubleshooting skills
Knowledge of machines and basic hand tools, including their uses, repair, and maintenance
Ability to follow written, visual (drawings or images), and verbal instructions
Ability to work independently and as part of a team
Physical abilities: Perform repeated physical activities that require considerable use of arms and legs and moving the whole body, such as climbing, lifting (to waist and overhead), balancing, walking, stooping, and handling of materials; arm-hand steadiness; near vision; manual dexterity; finger dexterity; multi-limb coordination; physical strength – the ability to lift at least 50 pounds unassisted and overhead and heavier weights with assistance
Ability to work Monday-Friday 9 a.m.-5 p.m. and every other Saturday from 9 a.m.-2 p.m.
Benefits: ELK offers a competitive benefits package, including health insurance, dental insurance, life insurance, paid vacation, paid holidays, and 401k.
Eastway Lock & Key, Inc. is an equal opportunity employer.
Job Requirements: Must have a valid driver's license and be insurable to drive company vehicle. Must pass extensive background check.
Locksmith
Eastway Lock & Key is currently seeking applicants for locksmiths in Charlotte, NC. The ideal candidate for this position will have locksmith experience and the ability to be licensed under the NC Locksmith Licensing Board.
Have you always dreamed of being a locksmith, but don't have the experience? We're also looking for an apprentice! Please submit your resume and include a cover letter detailing why you want to be a locksmith.
Hours: Monday-Friday 9 a.m.-5 p.m. and every other Saturday from 9 a.m.-2 p.m.
COMPETITIVE PAY – BONUSES – SPIFFS – OPPORTUNITY FOR GROWTH
Basic Locksmith Knowledge preferred, including but not limited to the following:
Commercial
Residential
Automotive
Re-key/Master key all phases
Key duplicating
Proficient in Medeco and IC core
Lock & hardware Installation
Advanced skills are preferred but not required, such as:
Safe work
Access control / CCTV
Commercial hollow metal frame & door installation
Commercial door hardware
Security hardware installation
Other Job Requirements:
Clean criminal background and driving record
Valid NC driver's license
Must have or be able to obtain NC Locksmith License
Must be able to lift in excess of 50 lbs.
Excellent verbal and written communication skills
Basic math skills
Benefits: Health, Dental, LTD Insurance Available, Paid Vacations, 401k with Employer Match, Paid major holidays