For more than 40 years, we have been the trusted company for locksmith services and security solutions in Charlotte.
Eastway Lock & Key, Inc. has been a trusted specialist in locksmith services in Charlotte, North Carolina since 1976. For more than 40 years, we have built our reputation on providing solutions for security needs big, small, and in between. We use only the best products available on the market today and take pride in our work. With two convenient locations to serve you, we service residential, commercial and industrial clients in the Charlotte and Myrtle Beach areas.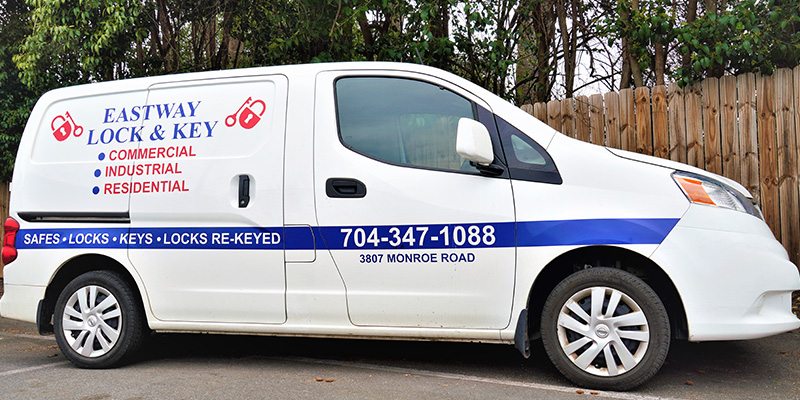 One of the things that sets us apart is that we are an established locksmith company, offering in-house, full-service locksmith services.
Locksmith Services – Whether it is a broken lock, a safe that won't open, or even an old gumball machine, odds are we can make a key for or fix the lock in question. We also offer master key consulting services, including design and maintenance. Our automotive locksmith team can help you 24/7.
Security Services – Besides lock repairs and installations, we specialize in security services for businesses in the Charlotte and Myrtle Beach areas. If you're considering a reliable video monitoring system, high-security keys, an access control system or simply a well-made alarm and fire alarm, our team at Eastway Lock & Key, Inc. can assist you.
Door Installation – Our specialists are also trained and certified in professional door installation and door repair. We can help you choose the right doors for your business. We will work on all commercial doors, frames and hardware, including glass and metal storefront doors.

Our service guarantee!
Customer satisfaction is one of, if not our biggest priority, so as part of our service to you, we offer our customers 90 days warranty on all parts and materials! If you have questions on this or on any of our services offered, contact us or call us at 704- 347- 1088.
We offer security solutions for your residential and commercial spaces!
Customer satisfaction is our biggest priority. Together with our professional services, we stand behind our work by offering our customers warranties that vary in nature, depending on the products and services provided. If you have questions about our services, contact us today. We look forward to hearing from you.
Eastway Lock & Key, Inc. Certifications & Associations
– North Carolina Alarm Systems Licensing Board #481-CSA
– North Carolina Locksmith License # 0428
– South Carolina Alarm Systems Licensing Board # 5378
– South Carolina Fire Alarm Licensing Board # 3033
– Member of Associated Locksmiths of America (A.L.O.A.)
– Member of Charlotte Better Business Bureau
– Architectural Hardware Consultants (AHCs)
– Certified Door Consultants (CDCs)
– Electrified Hardware Consultants (EHCs)
– Safe and Vault Technicians Association (SAVTA)